Dan & Kelly's Wedding
---
More Coming Soon!
---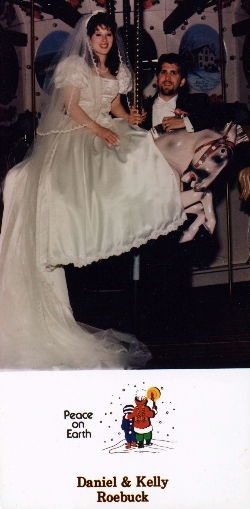 The above picture is scanned from the Christmas card Dan and Kelly sent out the year they were married.
---
Related Articles
ACTOR DAN ROEBUCK LOOKS TO THE THREATENING SKIES OUTSIDE CENTRAL MORAVIAN CHURCH IN BETHLEHEM AS BRIDE, KELLY DURST, RECEIVES CONGRATULATIONS
The Morning Call Newspaper Company
by Paul Willistein, The Morning Call
Sunday, May 8, 1994
Scott's comments: John Lamana and I shared the "Best Man" position. My sons Andrew and Jerry were also part of the wedding party.