Links Related to Dan
---
Bethlehem, PA
Dan's hometown (and mine), also known as "The Christmas City".
---
Bushkill Park
This amusememt park is owned and operated by Balloons the Clown, a longtime friend of Dan's. This park was also the site of Dan and Kelly's wedding reception. To find out more about Dan's wedding click on "About" on the top menu bar.
---
Dorney Park
When Dan comes to town we like to go here with our friend John. Dan was asked to do an autograph signing here last year (1997) when the park opened up it's new roller coaster "Steel Force". This park was such a big part of our childhood lives that both John and Dan have now started collecting Dorney Park items. Especially ones that were made in the late '60s through the early 80's. If you have any email us!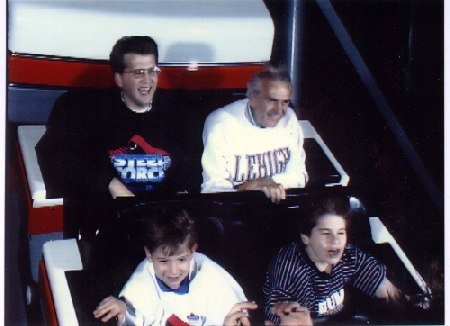 This photo was taken on Dorney Park's new coaster "Steel Force". Dan is in the top left corner, Dan's father, John Roebuck, is in the top right corner. My sons are in the bottom row, Andrew's on the right. Jerry's on the left.
---
Halloween: The Happy Haunting Of America

To find out more about this link click on "Other" on the top menu bar.
---
Musikfest
Musikfest is a local music festival held yearly in Bethlehem. What connects this to Dan is that he has been the "Grand Marshall" of Musikfest for the last two years (1996 & 1997). Dan has also filmed a PBS documentary on Musikfest for each of these years.
---
The Original Daniel Roebuck Homepage
Boy, was I suprised to find out that there already was a site devoted to Dan! This site has "sound clips" of Dan (something I have not had a chance to get to yet). Also you will find some original sketches of Dan drawn by the sites webmaster. Please check out this site when you can and tell them that we sent you.
---
The Pennsylvania Playhouse
The Pennsylvania Playhouse has the honor of being the place for Dan's first theatrical appearance (for more information click on "Theatre" at the top menu bar then click on "Equiis"). Dan and I spent many years of our lives either appearing in or working on plays here. The PA Playhouses's 1997, 1998 and 1999 Christmas show was/will be "Miracle", which was written by Dan! (for more information click on "Other" at the top menu bar then click on "Miracle").