Terror Eyes
aka Night School

Dan's Character:

A Demonic Agent from Hell

Rated:

Not Rated

Category:

Horror

Synopsis:

From the back of the video box:
"Daniel Roebuck delivers a frightfully funny performance as a demonic "Agent From Hell," sent to Earth to recruit new script writers. His "chosen one" is the unwilling and unable Eva Adams, a beautiful advertising executive who is given the impossible task of writing the Devil's next horror film.
Despite her best efforts, Eva cannot think of a story. She can't even remember the terrifying nightmares created by the demon.
Exasperated, the demon must physically contact her and force her to write. He follows Eva and a group of her friends to a remote campsite and begins his evil wrath - starting with Eva's husband.
What follows is a night of terror, and comedy, as Eva and her friends unleash their wildest horror stories and nightmares, only to be topped by the frightening reality of the demon in their midst."

Director:

Eric Parkinson

Cast:

Vivian Schilling
Lance August
Dan Bell

Distributor:

A.I.P. Home Video, Inc.

When:

1988

Review:

"A uniquely structured horror anthology that sneaks up and grabs you by surprise. Well-written, well-acted and lots of fun." - Larry Barsky, FANGORIA

Scott's Comments:

The only good thing about this movie was that Dan had a nice full head makeup job. Even better, Dan's photograph (with makeup) appeared in an issue of Fangoria, a magazine devoted to horror movies and a favorite of ours.
---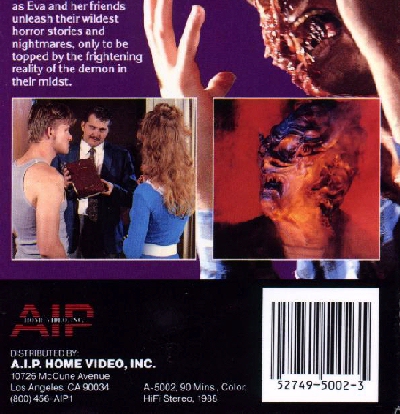 Dan is the middle person in the left side picture. He is also the good looking fellow in the picture to the right.